About us at Ludham Garage, Great Yarmouth
Selection of memories from yesteryear
Grandad Clarke's Rootes Dealership in Gaywood, Kings Lynn, Norfolk.
Grandad Clarke's purpose-built Rootes Dealership in Broadway Peterborough
which was hailed at the time as Britain's most modern purpose-built Garage, this was in addition to another Rootes Dealership owned in Wisbech.
After retirement Grandad sells all the Rootes Dealerships
and retires to Horning and purchases Ludham Garage in 1963 . The hand over to the younger generation begins with Dad running the business at Ludham Garage and completing the first extension to workshop building in 1973 as shown in image.
Progress continues
in with this image which was taken in 1989 showing second extension and the demolition of wooden house to make way for a new showroom, additional land has also been purchased by Dad.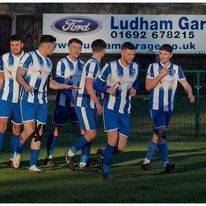 We are Proud sponsors of Wroxham Football Club.